DMZ tour – Vinh Moc Tunnel

Your trip in Phong Nha wouldn't be complete without a visit to the historical DMZ and the Vinh Moc Tunnels. Ben Hai River was Demarcation line between North and South Vietnam During Vietnam-American War, this makes a DMZ- Demilitarized Zone of five km each from the river. However during the war, the death was happened near here. This tour to DMZ will take you back to the war sites. On this day trip, you'll have opportunity to learn more about Vietnam War history. You will walk past former DMZ, former US Bases and even venture into the Vinh Moc tunnels and explore the complex.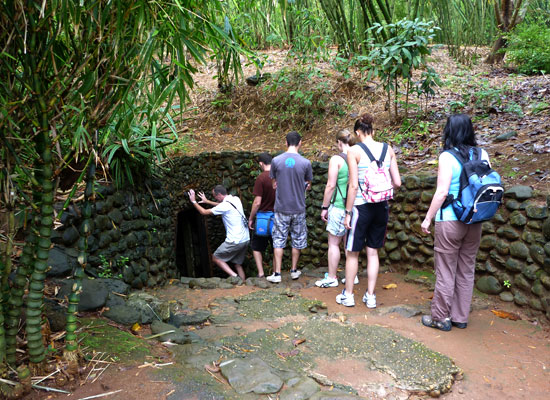 Tour Route: DMZ tour - Vinh Moc Tunnel
Length: One day

BRIEF ITINERARY:

The DMZ (Demilitarized zone acronym) is an established dividing line to separate North Vietnam and South Vietnam after the Indochina war. The DMZ zone of Vietnam ranged from the border with Laos to the Sea (the parallel 17). Much of this DMZ dividing line crossed the River Ben Hai.
Americans, who lived in Southern Vietnam, wanted to force to Vinh Moc peasants to abandon their land, so as to avoid to help Northern Communist forces established on the nearby island with Co (at 28 kilometers from the coast). The people, who had no other place where refuge, refused to leave their lands and the village where he had spent most of his life.
The zone of Vinh Moc was bombed duramente, says that an average of 7 tons of bombs per each inhabitant fell. To flee the bombings and due to the favourable geology of terrain, it was decided to begin excavating a complex of tunnels under the village of Vinh Moc in 1965, thus copying performance and result of the Cu Chi tunnels located on the outskirts of the former Saigon, now Ho Chi Minh City.
You May Also Like...
We are internationally registered, well-recognized
We respond you within 12 hours
Best prices guaranteed
Sapa local experts, true knowledge
Our service is personalized, customized at its best
Easy to pay online
Safe & Secured Payment
Professional Consultancy
Best customer care/policy