Phong Nha Cave and Paradise Cave – Full day tour

Phong Nha cave is not only a natural legacy of the world or a wonder of the country Vietnam, but also a relic system of the historic street Ho Chi Minh which collaborates with Xuan Son Ferry in order to create a route supporting for the battleground of the South Vietnam during US War. Today, this place has become the first section of Ho Chi Minh trails. Therefore, coming to Phong Nha means you are visiting this legendary trails.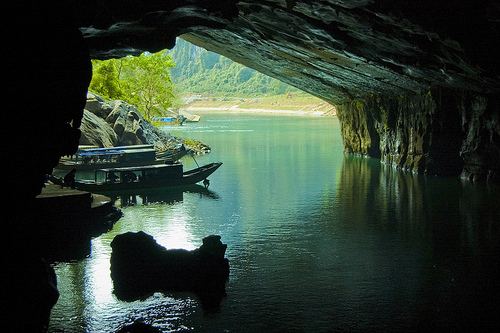 Tour Route: Ho Chi Minh Trails - Phong Nha Cave and Paradise Cave
Length:One day tour

BRIEF ITINERARY:

PHONG NHA CAVE AND PARADISE CAVE
Paradise Cave (Hang Thien Duong ) discovered by scientists of the British Caving Research Association in 2005, has the length of 31km, the longest dry cave in Asia. With naturally primitive features, Paradise Cave looks like a landscape painting, making it very attractive to visitors. According to spelunkers, the deeper one journeys into the cave, the more one feels the wells of heavenly clarity all around. There are a series of white crystal stalactites resembling glass pillars and many other spectacular formations.  
You May Also Like...
We are internationally registered, well-recognized
We respond you within 12 hours
Best prices guaranteed
Sapa local experts, true knowledge
Our service is personalized, customized at its best
Easy to pay online
Safe & Secured Payment
Professional Consultancy
Best customer care/policy