Phong Nha Eco Conservation Tour

The Phong Nha – Ke Bang National Park is renowned for its limestone cave systems, which make this park absolutely unique and outstanding. This rainforest is also considered as one of the best hot spots of biodiversity in the world. This is the home of many endemic species which are only available in this UNESCO World Heritage Site National Park. You will obtain an insight and learn about this area of conservation. This tour will give you a great chance to experience the wonder of the natural heritage of the park with a local expert in the conservation of the area. View the beautiful scenery of the park in safety on the back of the motorbike of a licensed Vietnamese local rider as you travel between these highlights: The Wildlife Rescue and Rehabilitation Center You will experience the knowledge, procedures & treatment of the wildlife Rescue Center. Also you will get to see the animals that are being cared for at this facility. Each animal has its own background story and to learn about it would be amazing memories.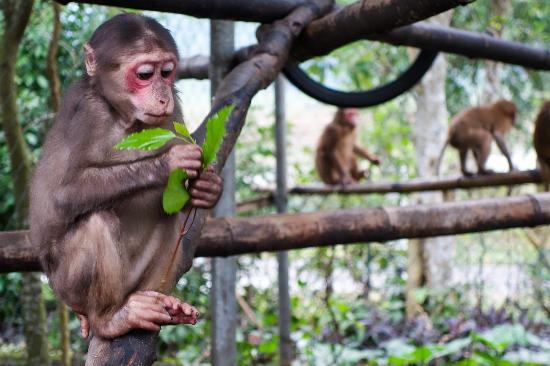 Tour Route: Phong Nha Botanical garden
Length: Fullday

BRIEF ITINERARY:

– From 09:00am: Start  to visit Wildlife Rescue Station.
– 09:15 – 11:15: Experience the Wildlife Rescue Station (learn stories; see the wildlife)
– 11:15 – 11:30: Transport to Botanical Garden
– 11:45 – 13:00: Trekking through the proper jungle
– 13:00 – 14:30: BBQ Lunch in Jungle and Resting
– 14:45 – 15:45: Trekking through the jungle and back to the Botanical Garden.
– 15:45 – 16:15: Swimming at the beautiful natural pool
– 16:15 – 16:45: Visit the Display House and see the monkey in the Semi-wild enclosure
– 16:45 – 17:00: Transport back to Phong Nha and the tour ends
You May Also Like...
We are internationally registered, well-recognized
We respond you within 12 hours
Best prices guaranteed
Sapa local experts, true knowledge
Our service is personalized, customized at its best
Easy to pay online
Safe & Secured Payment
Professional Consultancy
Best customer care/policy