Tu Lan Cave Discovery 2 days 1 night

There are many spectacular untouched caves in this limestone mountain area with beautiful stalagmites and stalactites, as well as underground rivers and waterfalls. Tu Lan is somewhat hidden from the world due to its remote location making this an excellent jungle area to explore! In fact, Hang Ken Cave, visited on this tour, won the National Geographic Magazine photograph of the year in 2011. You will experience the best camping adventure in Vietnam, beside a stunning waterfall deep in the jungle. Spot flying foxes in the early evening as you enjoy a delicious meal cooked over the fire. The trekking distance is about 7km and there are 2 moderate hills. Minimum age is 16 years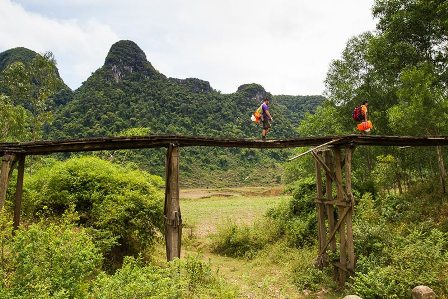 Tour Route: Primary forest; Tu Lan Cave; Hung Ton Cave; To Mo valley; Hang Kim Cave; Ken waterfall
Length: 2 days 1 night

BRIEF ITINERARY:

This tour is perfect if you are short on time but still want a solid taste of adventure in the amazing Tu Lan jungle and cave system. You will enjoy exploring Ken Cave, Kim Cave, Hung Ton Cave and of course Tu Lan Cave. You'll also be subjected to a decent amount of trekking with over 12 km of tough jungle terrain covered over the two days and plenty of swimming!
Availability: Every Tuesday, Thursday & Saturday
Small Group Tours: Average 2 - 8 pax
Minimum Age: 16 years
Tour Starts: 7:30 am - 8:00 am from any local hotel in Phong Nha
Please make sure that your health is suitable for these activities with ease.
12km jungle and mountain trekking, rocky terrain
Elevation change up to 150m (between valley and top of mountain)
1 km swimming in caves (from 200m – 500m each cave)
3 km caving
2 days and 1 night in jungle and caves
Requirements:
- Basic trekking experience
- Must be able to swim
You May Also Like...
We are internationally registered, well-recognized
We respond you within 12 hours
Best prices guaranteed
Sapa local experts, true knowledge
Our service is personalized, customized at its best
Easy to pay online
Safe & Secured Payment
Professional Consultancy
Best customer care/policy