Hang En or En Cave
En Cave
Hang En, in Vietnam, is the world's third largest cave and even has its own climate as well as a river and jungle.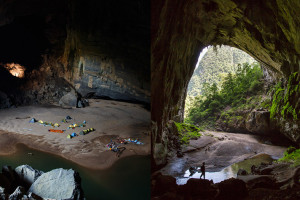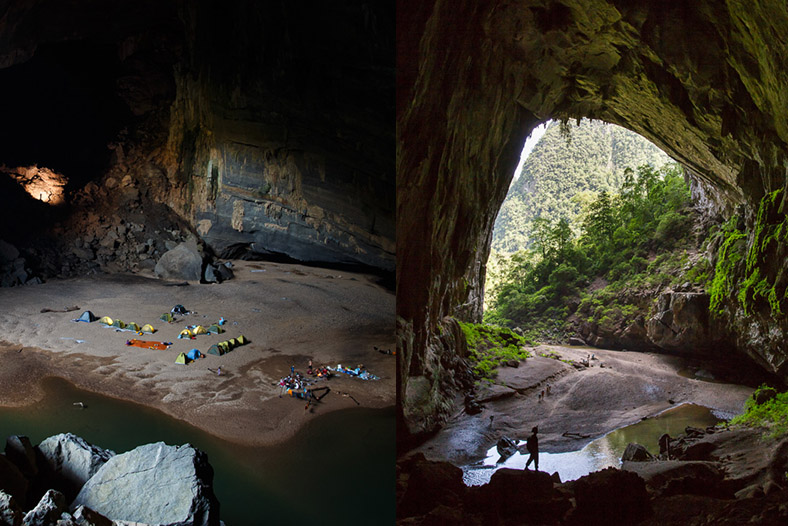 And there's no doubt pitching up your tent here for a camping holiday would be unlike any other and give you that perfect spot on the beach.
Currently considered to be the 3rd largest cave in the world after Hang Son Doong and Deer Cave in Malaysia, Hang En is quickly becoming one of the most recognisable and impressive caverns on the planet. Deep in the Phong Nha-Ke Bang National Park, the two day, one night adventure has been said to have the biggest 'wow' factor in all of Vietnam.
owering limestone mountains pierce through the jungle canopy as the Rao Thuong River meanders its way through the lush valley. For 10km the remote forest path zig zags across the flowing waterway, the awe-inspiring views only interrupted by clouds of swarming butterflies. You would be forgiven for believing you have been transported back in time to a prehistoric era; a world still completely untouched by humans. Dew sits delicately atop enormous fern leaves and birds join in with insects to provide a cacophony of chirping and humming in the background. Nothing could possibly surpass the natural beauty surrounding you on all sides. And then the cave's opening appears…
Other...
We are internationally registered, well-recognized
We respond you within 12 hours
Best prices guaranteed
Sapa local experts, true knowledge
Our service is personalized, customized at its best
Easy to pay online
Safe & Secured Payment
Professional Consultancy
Best customer care/policy